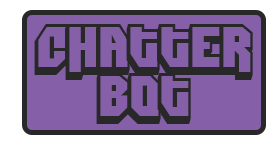 Chatterbot the twitch chat reader
Reads out your twitch chat for you and your stream

Customisable greetings to welcome visitors to your channel (can be turned off)

Uses standard windows text-to-speech voices

FREE 7 day trial
Only £10
Designed initially for use with VR, chatterbot will read out your twitch chat while you stream.
Use ChatterBot with a non-VR stream if you often find yourself engrossed in a game and forget that your viewers are there chatting to you! – Never miss a chat message again.
Welcome your viewers to your stream with custom ChatterBot greetings.
Chatterbot uses the standard Windows text to speech voice (installed with windows) but can be improved by using third party TTS voices for additional accents and regional dialects.
Chatterbot is compatible with TTS voices from Ivona
Easy to setup and use.  The Chatterbot dictionary can be edited so that you can teach it to pronounce certain words – including your regular viewer names – correctly.
All customisation (greetings and dictionary) are stored in chatterbot's built-in database.
Web links and commands are ignored by chatterbot.
Made by a streamer for streamers – an ongoing project that will develop and be added to over time.